THT 80
Known as:
THT 80; B 80
Cite this page as:
Melanie Malzahn. "THT 80". In A Comprehensive Edition of Tocharian Manuscripts (CEToM). Created and maintained by Melanie Malzahn, Martin Braun, Hannes A. Fellner, and Bernhard Koller. https://cetom.univie.ac.at/?m-tht80 (accessed 02 Dec. 2023).

Edition

Editor:
Melanie Malzahn

Provenience

Main find spot:
Šorčuq
Expedition code:
T III Š 67
Collection:
Berlin Turfan Collection (BBAW)

Language and Script

Language:
TB
Linguistic stage:
classical
Script:
classical

Text contents

Title of the work:
Araṇemijātaka
Text genre:
Literary
Text subgenre:
Jātaka/Avadāna
Verse/Prose:
prose

Object

Manuscript:
Araṇemi α
Material:
ink on paper
Form:
Poṭhī
Number of lines:
6
Images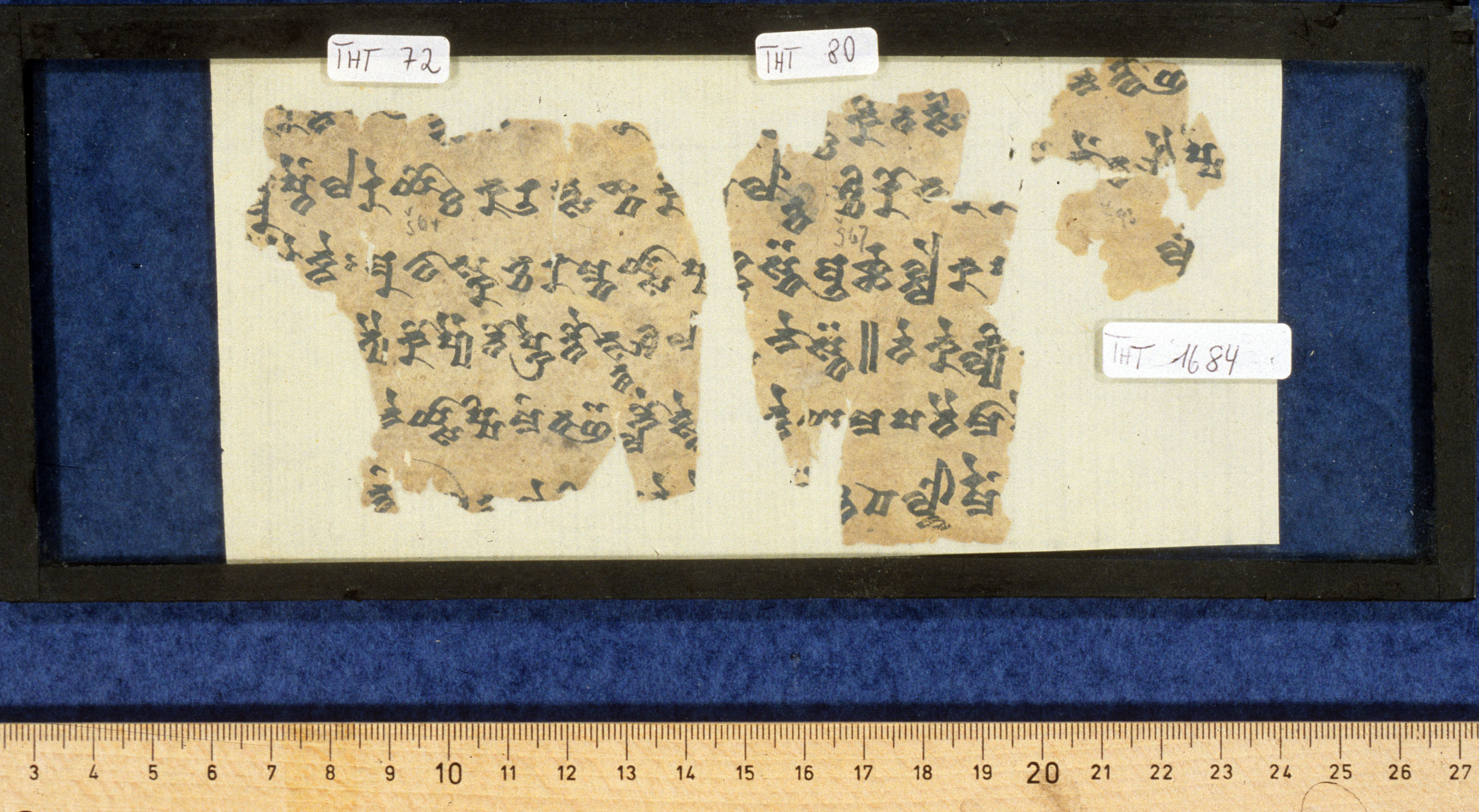 Images from idp.bl.uk by courtesy of the International Dunhuang Project, the Berlin-Brandenburgische Akademie der Wissenschaften, and the Staatsbibliothek zu Berlin – Orientabteilung.
Transliteration
| | |
| --- | --- |
| a1 | /// (–) (·)[k]a k[au] ta tsi /// |
| a2 | /// [m](·) lā¯ ¯nt ści ro na [r](·) [k](·) /// |
| a3 | /// [tka] stä ā rs̝s̝a lle ka [p](·) /// |
| a4 | /// ne¯ ¯stä || te ke kly[au] /// |
| a5 | /// nte ya ma ṣa tai mā (·)e /// |
| a6 | /// (·)[ä] [nta] pa lko rmeṃ /// |
Transcription
Translation
| | |
| --- | --- |
| a1 | ... to cleave ... |
| a2 | ... (scolding vel sim.) the king (Araṇe)m(i with) harsh wor(ds) ... |
| a3 | ... you (sg.) ... is to be given up ... |
| a4 | ... you are. (Having) heard this ... |
| a5 | ... you have made. Not ... |
| a6 | ... with regard to ... |
Commentary
Philological commentary
Continues A 342, continued by THT 78. The translation follows Schmidt 2001a: 306-7.
According to Schmidt 2001a: 307, it would appear that a leaf of an Uyghur version of the Araṇemi-Jātaka (= U 2293), remnants of which are preserved in an Uyghur manuscript collection of the Berlin Turfan collection, also belongs within this context; the translated text of this leaf is also given in Schmidt KT 2001 (op.cit). In English, the text runs as follows:
["However it may] be, death will come! Separated from you I will be." In this way he will continue to lament: "You will not be able to redeem m[e]! [Through] unnumbered, tens of thousands of existences I have been born, I have died. The useless body [I have] cast off. Now great benefit has come [to] me. Are you all of one mind with me! If you foster good thoughts towards me, let you not rise a bad thought against this my [ ... ] Brahmin! Provide for [country and] town, folk and people, have-nots and the poor, [miserable] and needy beggars! Without hope they shall not be! Since I have sat on the [throne] of the kingdom, so and so many beggars have come. What they have begged for I have given them. If I keep giving in this way, the goods and chattels (of the) seven treasure houses of my town Aruṇāvatī will remain entirely empty. Not one day you have shown me a grim face. My heart you have not hurt. If your hearts..., because out of [greed] for power and strength you have ..., punished, scolded or cursed, ... or have become negligent, [of] these sins acquitted [you may be]."
Schmidt seems to restore correctly to

(araṇe)m(i)

.
A reading

ka[ṣ](·)

is also possible.
Remarks
| | |
| --- | --- |
| | Little fragment from one side of a leaf, possibly the verso of THT 79. In one frame with THT 72 und m-tht1684. |
Linguistic commentary
tkästä

certainly contains a 2sg. active verb form from a root ending in -

tk

. Schmidt seems to propose the restoration

(wa)tkäst

'you command' from the kausativum of the root

wätkā

-. In any case, the preservation of the final

-ä

(if not an error) may be due to the demands of metre and verse; there are no other indications of metrical passages in this small fragment.
Alternative linguistic/paleographic classifications
References
Online access
Edition
Translations
Schmidt 2001a: a1 a2 a3 a4 a5 a6 (307)
Bibliography
"The International Dunhuang Project: The Silk Road Online." n.d. http://idp.bl.uk.
Schmidt, Klaus T. 2001a. "Die westtocharische Version des Araṇemi-Jātakas in deutscher Übersetzung." In De Dunhuang à Istanbul. Hommage à James Russell Hamilton, edited by Louis Bazin and Peter Zieme, 299–327. Silk Road Studies 5. Turnhout: Brepols.
Sieg, Emil, and Wilhelm Siegling. 1953. Tocharische Sprachreste. Sprache B, Heft 2. Fragmente Nr. 71-633. Edited by Werner Thomas. Göttingen: Vandenhoeck & Ruprecht.
Tamai, Tatsushi. 2011a. Paläographische Untersuchungen zum B-Tocharischen. Innsbrucker Beiträge zur Sprachwissenschaft 138. Innsbruck: Institut für Sprachen und Literaturen.
Gippert, Jost, Katharina Kupfer, Christiane Schaefer, and Tatsushi Tamai. n.d. "Thesaurus Indogermanischer Text- und Sprachmaterialien (TITUS): Tocharian Manuscripts from the Berlin Turfan Collection."