A 374
Known as:
A 374; THT 1008
Cite this page as:
Gerd Carling. "A 374". In A Comprehensive Edition of Tocharian Manuscripts (CEToM). Created and maintained by Melanie Malzahn, Martin Braun, Hannes A. Fellner, and Bernhard Koller. https://cetom.univie.ac.at/?m-a374 (accessed 09 Dec. 2023).

Edition

Editor:
Gerd Carling

Provenience

Main find spot:
Šorčuq
Specific find spot:
Stadthöhle
Expedition code:
T III Š 63.15
Collection:
Berlin Turfan Collection (BBAW)

Language and Script

Language:
TA
Script:
late

Text contents

Title of the work:
Dhūtaguṇa
Text genre:
Literary

Object

Material:
ink on paper
Form:
Poṭhī
Number of lines:
10
Images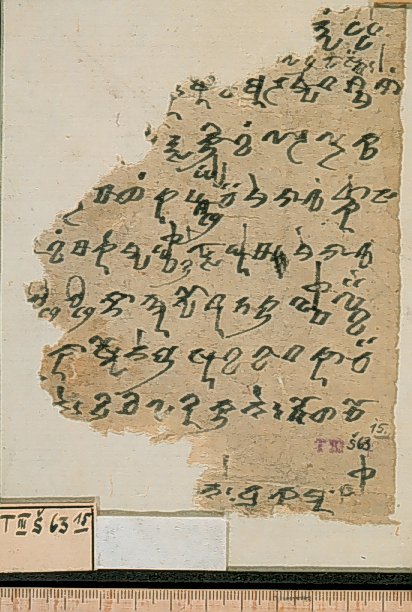 Images from titus.fkidg1.uni-frankfurt.de by courtesy of the Thesaurus Indogermanischer Text- und Sprachmaterialien (TITUS).
Transliteration
a1
/// tw·i
a2
/// w· [w]r· wā stä : |
a3
/// a ra mpā¯ ¯t śma śāṃ
a4
/// ni sa kulyi¯ ¯k wa¯ ¯r wra kṣa
a5
/// ·ra pa¯ ¯s̝ ka pśña¯ ¯cä me nā¯ ¯k [c]kā sa
a6
///

¯

k ma rka mpa lṣi «tri» wsā lu ma – me nā¯ ¯k
a7
/// ṣñi ṣñi knā nmu nyo dhu ta ku lṣi wkäṃ
a8
/// kā swo ne ā su kka tkā¯ ¯cä
a9
/// [n]e : tri ci wa ri ku ne : to¯ ¯s̝ ṣo
a10
/// n· : v[ṛ] k – mu li
Transcription
Commentary
Remarks
| | |
| --- | --- |
| | Transcription and translation are based on Carling et al. 2009. |
| | Transcription and references have been transferred from the "Text and Reference Database of the Tocharian A Language" (Gerd Carling Lund University) (funded by the Bank of Sweden Tercentenary Foundation and SCAS). |
References
Online access
IDP: THT 1008; TITUS: THT 1008
Edition
Sieg and Siegling 1921a: 207-208; Sieg and Siegling 1921a p. 207, p. 208
Translations
Couvreur 1959: a4 (252), a10 (252)
Bibliography
Carling, Gerd, Georges-Jean Pinault, and Werner Winter. 2009. A dictionary and thesaurus of Tocharian A. Volume 1: Letters a-j. Wiesbaden: Harrassowitz.
Couvreur, Walter. 1959. "Review of: Thesaurus Linguae Tocharicae Dialecti A." Bibliotheca Orientalis 16 (5-6): 251–53.
"The International Dunhuang Project: The Silk Road Online." n.d. http://idp.bl.uk.
Sieg, Emil, and Wilhelm Siegling. 1921a. Tocharische Sprachreste, I. Band. Die Texte. A. Transcription. Berlin/Leipzig: de Gruyter.
Gippert, Jost, Katharina Kupfer, Christiane Schaefer, and Tatsushi Tamai. n.d. "Thesaurus Indogermanischer Text- und Sprachmaterialien (TITUS): Tocharian Manuscripts from the Berlin Turfan Collection."