THT 455
Known as:
THT 455; B 455; Bleistiftnummer 2593
Cite this page as:
Adrian Musitz. "THT 455". In A Comprehensive Edition of Tocharian Manuscripts (CEToM). Created and maintained by Melanie Malzahn, Martin Braun, Hannes A. Fellner, and Bernhard Koller. https://cetom.univie.ac.at/?m-tht455 (accessed 02 Dec. 2023).

Edition

Editor:
Adrian Musitz

Provenience

Main find spot:
Qizil Miŋ-Öy
Collection:
Berlin Turfan Collection (BBAW)

Language and Script

Language:
TB
Linguistic stage:
late
Script:
cursive

Text contents

Text genre:
Non-literary
Text subgenre:
Account
Verse/Prose:
prose

Object

Material:
ink on paper
Form:
Scroll
Images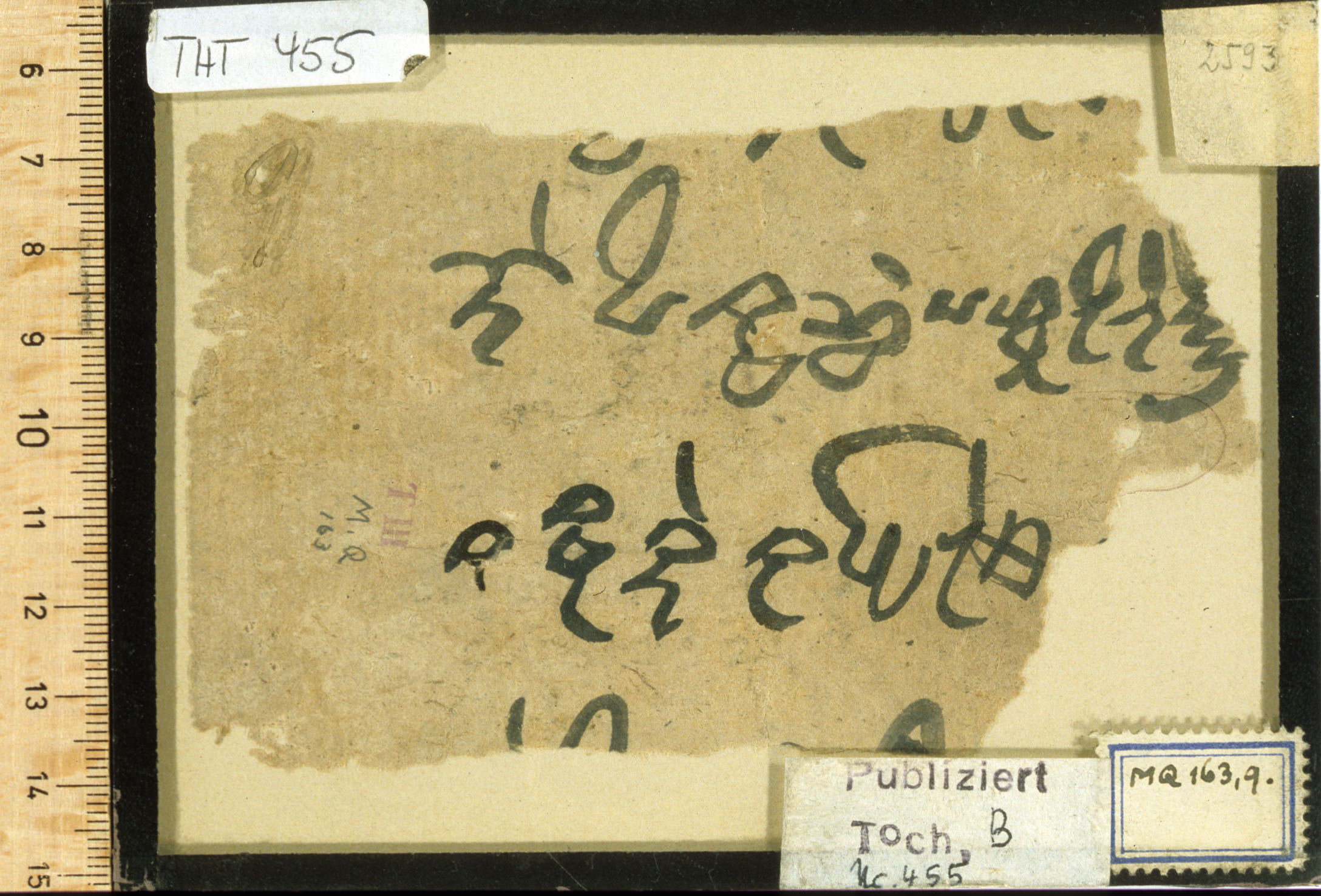 Images from idp.bbaw.de by courtesy of the International Dunhuang Project Berlin, the Berlin-Brandenburgische Akademie der Wissenschaften, and the Staatsbibliothek zu Berlin – Orientabteilung.
Transliteration
| | |
| --- | --- |
| a1 | tau pi śṣa ṅkaṃ pa ñcwa ri ke jñā /// |
| a2 | śa kṣu kne ka pyā re¯ ¯s /// |
Transcription
Translation
a1
a peck, five pints. The

Pañcwarike

Jñā-?...
a2
On day seventeen, ... for the

kapyāri

...
Commentary
Philological commentary
n1
Sieg and Siegling have 'ndre' instead of 'jñā'. This is understandable because 'jñā' and 'ndre' look very similar and are even confounded by the scribes themselves.
n2
We know of a

Jñānasome

and a

Jñānaca(ṃ)dre

who were

Pañcwarike

.
References
Online access
Edition
Bibliography
"The International Dunhuang Project: The Silk Road Online." n.d. http://idp.bl.uk.
Sieg, Emil, and Wilhelm Siegling. 1953. Tocharische Sprachreste. Sprache B, Heft 2. Fragmente Nr. 71-633. Edited by Werner Thomas. Göttingen: Vandenhoeck & Ruprecht.
Gippert, Jost, Katharina Kupfer, Christiane Schaefer, and Tatsushi Tamai. n.d. "Thesaurus Indogermanischer Text- und Sprachmaterialien (TITUS): Tocharian Manuscripts from the Berlin Turfan Collection."